Measure Your Home's Efficiency
We pinpoint where and why energy is being wasted and your comfort compromised.
Quick Home Energy Checkups
Customers of all major Maryland utilities and some Virginia utilities now can receive a basic, no-cost energy check-up, in which one of our trained technicians will install a variety of energy-saving measures in your home at no cost, and advise you on additional energy-saving programs and opportunities.
Click to view more info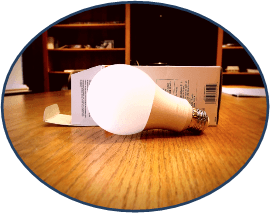 High-Efficiency LED Bulbs
LED light bulbs, now available in a wide range of styles, are a great first step towards permanently lowering your monthly utility bills.  With their long expected lifespan, you'll be saving energy — not changing bulb — for years to come.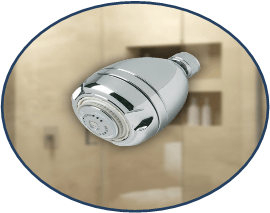 Efficient-Flow Water Fixtures
With water costs continuing to climb, efficient water fixtures, such as showerheads and faucet aerators, can give you a sleek new look and consistent flow while lowering your water and water heating costs.
Energy-Saving Tips & Information
As home efficiency and utility program experts, we can advise you on additional steps you can take to further improve the comfort and efficiency of your home, and any programs available to help you get there.
Home Performance with ENERGY STAR® Audit
A full home performance audit uses advanced diagnostic equipment to pinpoint air leaks, insulation deficiencies, and other health and safety concerns in your home. Your certified auditor will then prepare a personalized report to help you prioritize your home performance improvements.
For a limited time, the cost of this service is offset by a generous utility subsidy available to Maryland customers.
Click to view more info
Blower Door Leakage Testing
A blower door test reveals how leaky your home is and where those air leaks are occurring.  Combined with other diagnostic equipment, we use the results from the blower door test to help come up with a plan to fix the leaks and keep out the drafts.
Health, Safety & Efficiency Tests
In addition to the blower door test, our auditors will look at over two dozen areas of your home, giving special attention to the systems which impact your health, safety, and indoor air quality.
Your Home Energy Report
After we complete your audit, your customized report will explain how your home compares to others of its age and size, list our findings on your health and safety tests, and help prioritize the best opportunities for saving energy and money. We'll help devise a cost-effective strategy for achieving a healthier, more comfortable, energy-efficient home.
Other Home Diagnostic Services
Zerodraft also offers a variety of other residential testing and technical services to help you measure and evaluate your home's performance. These can be arranged as stand-alone tests or as part of your broader Home Performance with ENERGY STAR® energy audit.
Click to view more services
Duct Leakage Testing
Many homes lose 30% or more of their forced-air through leaks in the duct system — meaning that some rooms never get the heating and cooling they need to maintain comfort. Duct leakage testing lets you know how much valuable heating and cooling you're losing, where you're losing it — and what you can do about it.
Room Airflow Testing
Just as duct testing tells us how much air is being lost through the ducts, room airflow testing tells us how much air is actually getting to your supply registers in each individual room.  This valuable information helps to pinpoint problems, and provide a fixed frame of reference to verify that any corrective work is effective.
Home Energy Score
The Home Energy Score, developed by the Department of Energy, is a simple but powerful rating for existing homes, using a scale of 1 to 10.  Similar to a miles-per-gallon rating for a car, it allows new home buyers to better gauge their purchase, and sellers to highlight their efficiency improvements.
New Construction Testing
Zerodraft also offers testing for new construction energy code compliance, including the 2012 International Energy Conservation Code (ICC IECC 2012). Whether you are a large builder or a do-it-yourself general contractor, our trained assessors can deliver accurate, on-time building envelope leakage and duct leakage tests, with the documentation you need to satisfy local building inspectors.
Upgrade Your Home Environment
Improvements for every home and budget.
1
Attic Air Sealing and Insulation

A tight, well-insulated attic is (literally) a top priority for many homes.
2
Duct Sealing and Insulation

Sealing and insulating duct-work means getting more heating and cooling to where you need it, not losing it into your basement or attic.
3
Heat Pump Tune-Up / Upgrades

Viable heat pump upgrades may range from a system tune-up to a total system replacement; we can help you run the numbers and make an informed decision.
4
LED Lighting Upgrades

LED bulbs and fixtures give you cleaner, clearer light for less energy, while sensors give you better control over when and where your lighting operates.
5
High-Efficiency Appliances

New ENERGY STAR® appliances get the work done for less energy; we can help you understand where you're using energy and where appliance replacement makes sense.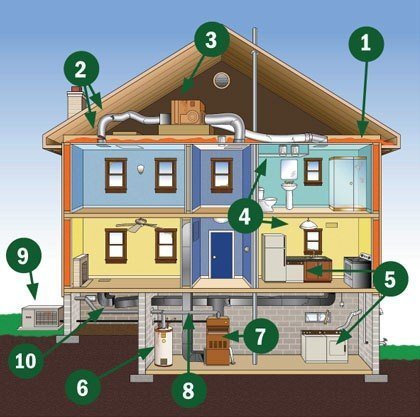 6
High-Efficiency Water Heater

If your existing water heater is aging out at 10-15 years service, it may be time to think about some new, high-efficiency options which can save you money for years to come.
7
Furnace Tune-Up / Upgrades

We run basic safety and efficiency tests on your furnace as part of every Zerodraft job. Viable upgrades may range from a system tune-up to a total system replacement.
8
Combustion Safety Testing

Every Zerodraft job includes health and safety tests to ensure that the bad air is moving out and enough fresh air is getting in. We let you know if anything's wrong -- and how to make it right.
9
Air Conditioning Tune-Up / Upgrades

Air conditioning is widely felt to be a modern necessity. If your A/C system is somewhat less than modern, it may be time for a tune-up or a total system replacement.
10
Crawl Space Moisture Control and Insulation

Too many older crawl spaces and basements are unhappy, neglected places where moisture, drafts and unhealthy air enter the home. We have the equipment and knowledge to keep the moisture out and your heating/cooling in.
As a leader in air sealing and insulation work, Zerodraft knows how to both find and fix air leakage, duct leakage and insulation deficiencies.
With over 120 successful home performance jobs to our credit, we bring experience, professionalism, and attention to detail to every job.
Aeroseal™ Duct Sealing
Sealing your ductwork is one of the most effective comfort and energy-saving improvements for many homes.  Particularly in older homes, ducts can lose 30% or more of their air through leaks at seams and joints – which means that your heating and cooling isn't getting to the areas of your home where you need it the most!  Previously, it was very difficult or impossible to seal ductwork in hard-to-reach spaces behind walls and in crawlspaces.  Now, however, Zerodraft's Aeroseal™ technology provides a way to effectively seal ductwork anywhere in your home. Our computer-controlled process locates and fills the leaks in your ductwork, while a before-and-after analysis of each duct system's air leakage will showcase your improvement.
Some of Our Recent Projects
Ruxton Colonial
Towson, MD
The Homeowner's Need: Charlie knew that he was wasting hundreds of dollars a year on his energy bills. His beautiful colonial home had been in the family for several generations, but wasn't built to modern energy codes, and certain rooms, particularly upstairs, were so drafty in winter that his family avoided them.

The Zerodraft Solution: After having Zerodraft do an energy audit, which included a blower door test and a thorough insulation inspection, Charlie weighed his options and decided to encapsulate his entire attic with spray-foam insulation. This helped the air handler and ductwork run more efficiently and get more heated air to the rooms that needed it, while cutting down on upper-level drafts – differences that the family noticed instantly! Checking in a year after the work, Zerodraft was pleased to find that Charlie had cut his energy bills by almost half. Now the family enjoys warm winters and cool summers without breaking the bank.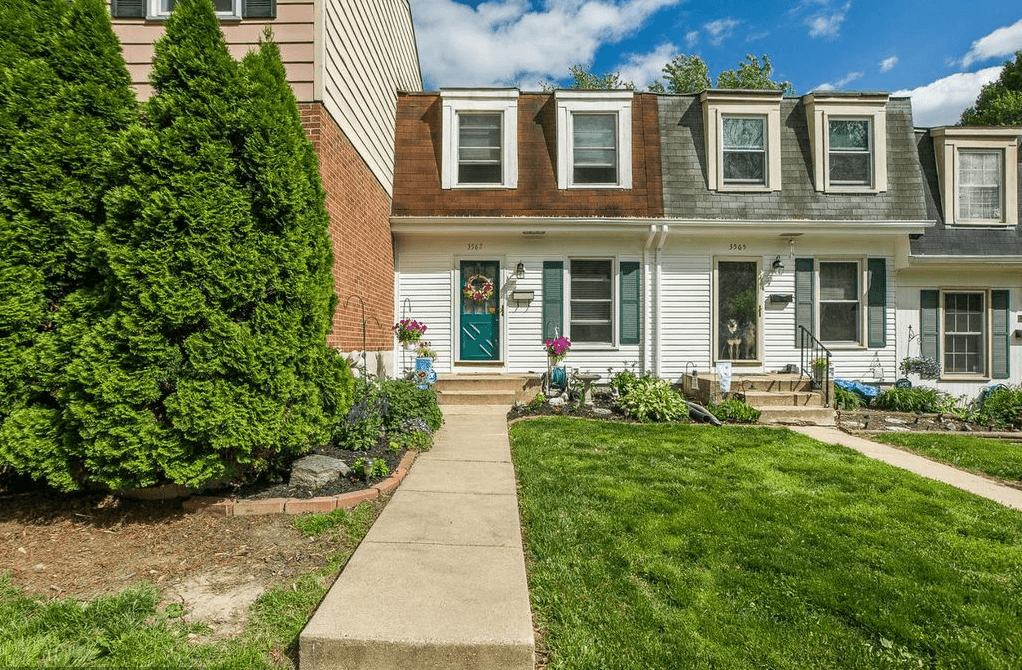 The Homeowner's Need: A new homeowner, Courtney loved everything about her new townhome except the difficulty heating and cooling it! She knew that her electric heat pump was older and not very efficient, but during the cold winter months, she often found herself racheting up the thermostat in order to stay comfortable. The winter and summer spikes led to a less than comforting electric bill.
The Zerodraft Solution: Zerodraft's home performance audit gave Courtney more insight into her home and helped her to prioritize her upgrades. Rather than invest thousands into a new heat pump that would have had a lower return on investment, she first decided to have Zerodraft air seal and properly insulate her attic. In the course of work, Zerodraft also installed reflective foil insulation to keep the upstairs level cooler in summer. Courtney reports that she can now keep the thermostat several degrees lower in winter and higher in summer, while feeling more comfortable than before!
Clifton Mansion
Baltimore, MD
The Building's Need: The beautiful 18th century farmhouse, once owned by Johns Hopkins, is a piece of Baltimore history that the city and Civic Works have been carefully stewarding back to its historical prestige. As part of a comprehensive renovation, the general contractor was committed to improving the energy efficiency of the building while preserving its historic character. Working with limited attic spaces, the contractor wanted an all-in-one air sealing and insulation solution and an experienced contractor who could deliver quality results despite difficult work conditions and a tight timeline.
The Zerodraft Solution: The contractor sought out Zerodraft for its in-house spray foam capabilities, and the closed-cell spray foam work provided attic air sealing and insulation with a single product. The client was pleased that the spray foam would seal penetrations in the attic floor to prevent pathways for rodents to enter the building. Work was completed on time and to specification, and will play a role in conserving this landmark property — and the city's budget — for decades to come.

Some of Our Recent Testimonials
Zerodraft helped us through a complex insulation installation in our 1845 house. Kurt recommended options and helped us plan, and recommended contractors. He also helped us figure out what to do when the insulation contractor's subs messed up. Finally, Zerodraft even checked in to see if we got our BGE rebate on time. Turns out we would have missed the rebate altogether! I found Zerodraft to have very intelligent and knowledgeable staff who really seem to want the customers to get what they need.
It went much better than I could have imagined. I paid to have the 1st level HVAC system Aerosealed to seal all gaps throughout the ductwork to hopefully improve efficiency. They were able to improve the efficiecy of the unit by 85%! I would HIGHLY recommend Zerodraft to anyone who would like to improve energy efficiency in their home.
Technician John Newton was very helpful and knowledgeable in explaining the energy savings of the products installed. I was well informed and happy with the outcome and hope for future savings using these products and those installed, especially my showerhead 🙂
Atif Munir is an absolutely fine young man--personable, efficient, and very responsible. As the HOA president, I've introduced him to many neighbors in our community for the energy check. We have received nothing but thanks and praise for those referrals and it has helped make our community more energy aware.
Rafael performed my Home Energy Audit which included an assessment of appliances, checking for drafts and leaks, and replacing all bulbs in the house with energy efficient bulbs. The most impressive part of this visit was being presented with a summary outlining how money could be saved by making my home more energy efficient. Very knowledgeable, professional and honest to boot!
Zerodraft added insulation to my attic and it completely fixed the problem of hot second floor, cool first floor, cold basement! Now at a higher setting (74 degrees) my house is comfortable on all levels, whereas before I had to keep the thermostat at 68 in order to be comfortable on the second floor. Yeah Zerodraft! You saved me money and gave me a good night's sleep.
Frequently Asked Questions
General Zerodraft Information
What areas does Zerodraft service?
Zerodraft currently offer single-family quick home energy check-ups (QHECs) across Potomac Edison, BGE, and Delmarva service territory, in Maryland, as well as similar programs in Dominion Power and Appalachian Power service territories in Virginia.
Zerodraft currently offers full Home Performance with ENERGY STAR® (HPwES) audits and home efficiency upgrades across central Maryland, in BGE, Pepco, and Potomac Edison utility service territories.
How many projects have you completed?
Over the past seven years, Zerodraft has completed over 750 full home performance audits and 150 residential upgrades, as well as over 10,000 quick home energy check-ups of single family residences.  
Is Zerodraft MD licensed and insured?
Yes, Zerodraft is fully certified, licensed, and insured to meet or exceed all utility standards. Our home energy auditors hold certifications from the Building Performance Institute, the premier credentialing organization for residential energy efficiency.
What other energy efficiency measures does Zerodraft provide?
 Zerodraft offers a variety of additional energy services for commercial and multifamily buildings, including lighting audits and upgrades, water efficiency audits and upgrades, utility bill reviews, and building energy benchmarking.
Quick Home Energy Checkups and Home Performance Audits
What is the difference between a quick home energy check-up and a full home energy audit?
A quick home energy check-up is, as the name implies, a quick (<1 hour), no-cost assessment of your home in which your technician can install a variety of energy-saving measures, including efficient light bulbs, water fixtures, and pipe wrap for your water heater) and provide you with some basic energy efficiency tips for your home.  We typically recommend that customers who have not had any energy service start with a quick home energy check-up (QHEC).
A full Home Performance with ENERGY STAR® (HPwES) is performed by a more highly trained energy specialist with a variety of more advanced diagnostic equipment, and is designed to help pinpoint and quantify the areas in your home that stand to gain from energy upgrades.  This $400 service is offered to you for $100 after generous utility subsidies, and is required to obtain utility rebates on subsequent energy-saving work done on your home
What does the home performance audit cover?
A Zerodraft "Home Performance with ENERGY STAR®" (HPwES) audit includes 5 main components:
1. A visual inspection, exterior and interior, of your property to assess any inefficiencies or deficiencies in the 'building envelope' (exterior and insulation), and major areas of opportunity to achieve greater efficiency.
2. Testing of all major combustion appliances for proper venting and any potentially harmful leakage/backdrafting of CO (carbon monoxide) or other noxious gases.
3. Blower door testing, which will quantify the amount of air leakage in your home, as well as additional pressure testing as needed to identify major areas of leakage.
4. After we visit your home, we will input your home into your utility program database so you are eligible for your rebate on energy retrofitting measures, including air-sealing, insulation, and duct sealing. Certain terms and conditions apply (i.e. – you must use a qualified utility contractor). For more information, you can ask us directly or visit your respective utility program's website.
5. After the audit (typically within a week, and usually sooner), you will receive a report which documents our findings, including an analysis of your energy consumption, your home's combustion safety results, and air leakage levels.   This report can help you to prioritize your future energy-retrofitting investments to improve the comfort and efficiency of your home.
Why should I get a home performance audit?
As a whole, the audit is designed to help you diagnose and solve under-performing systems in your home which are leading to energy waste and comprising the durability of your property. These areas may include:
Deficient or damaged insulation

Hidden air leakage through seams at structural members

Inadequate ventilation

Leaky, poorly routed, or underinsulated ductwork

Drafty windows

Inefficient lighting

Waste from standby electronics or appliances

and more!
Our overarching goal is to help you achieve a safe, comfortable, and efficient home, and to help you prioritize the best measures for your budget.
A home performance audit should not be confused with a full home inspection, which normally examines aspects of your home (e.g., roof, plumbing, decks) not of direct relevance to home energy performance, but many real estate professionals recommend that their clients have both when purchasing a new home.
How long does the home performance audit take?
Depending on the size of your home and complexity of its systems, an audit normally takes between 2.5 and 3.5 hours. Our lead auditor may also bring an audit assistant.
How should I plan for my home performance audit?
It's always best if we can obtain a copy of your energy bills prior to  the audit, as this will help us get the most accurate reporting.  In some cases this might not be possible (i.e., you just recently moved into a new home), in which case your utility account number alone will suffice.
While not absolutely necessary, it's usually better that you be home during your energy audit so you have the chance to personally interact with your energy auditing professional.  Sometimes we may have a question that requires your input, and you are also welcome to ask any questions that come up concerning your home's current performance and possibilities for improvement.
Most of our work is actually carried out in your attic and basement, so we're normally in your main living spaces for less than 1 hour.  (Though we do like to inspect every room for energy saving opportunities, you can of course let us know ahead of time about any rooms you would prefer we not enter).  We do also need to set up a blower door (a large testing fan) in one of your home's doors.  You can still access your home through another door, but we do ask that you confine your pets and not leave any other windows or doors open for approximately 30 minutes.
Can you advise me on renewable energy options?
Yes. For most homes, the most economical improvements with the biggest "bang for the buck" involve efficiency improvements, rather than installing renewable energy sources.  That said, renewable energy options, such as installing geothermal heating/cooling and solar (PV) panels, are excellent options for many homes, and we can recommend some of the area's most professional and reputable installers or coordinate a free estimate.
Planning Your Home Performance Work
How soon can I schedule my improvements?
Typically, insulation jobs can be scheduled with about two week's notice, depending on the season.
How long do I have to schedule my improvements?
According to the program rules, you have six months to complete recommended improvements and still receive rebates.  If six months elapse, your home must be retested prior to enacting improvements.
Will I be able to use my home while work is being performed?
 Most home performance improvements take place in the basement or the attic, so it's normally not a problem to use your home as you normally would.  Your contractor should let you know if you should expect any disruptions in your main living spaces.
Will insulation work create a mess?
 There are several different kinds of insulation; the one we most frequently recommend for many situations, cellulose, is an environmentally friendly material mainly comprised of recycled newspaper.  As this insulation settles, many customers do experience increased dust levels for a few days after the installation.  This is normal, and after a few days, you should then not experience any difference – if anything, improved air quality compared to before your work was completed!
What is a test-out and why do I need one after doing the work?
The test-out (TO) is an important requirement in the Home Performance Program and its purpose is threefold:
to quantify your airsealing and duct sealing improvements and also to ensure that your home still has adequate ventilation

to verify that the insulation work is done to standard;

to obtain your signature and the necessary documentation for your rebate.
Is there an additional charge for my test-out?
No. While some contractors charge separately for test-outs, we include it in the cost of your home performance improvements.  
What warranty do you provide on your work?
 On all of our residential work, we provide a 1-year warranty on all materials and labor.
Rebates and Financing for Your Work
What kind of utility rebate can I expect on my job?
This depends on a number of factors, including your utility program, existing building condition, and the amount of work required to correct any health, safety, and/or indoor air quality issues prior to completing energy efficiency upgrades.  Maryland utility program rebates cover up to 50% of your final project cost, capped at:
$2,000 for projects just involving air sealing and insulation

$2,500 for projects also including duct sealing

$4,300 for projects which also involve upgrades to your heating and cooling systems.
We are utility program experts and would be happy to give you a straightforward assessment of what your utility program can do for your home. Before starting your project, we will give you a firm commitment as to what rebate the program will cover and the maximum price that you will pay.
What terms and conditions apply to receiving my utility rebate?
Certain terms and conditions do apply if you wish to participate in your utility rebate program.  Most notably, you must:
correct any gas leaks or dangerously high carbon monoxide (CO) levels before starting work

achieve a minimum air sealing reduction of 10% and/or a minimum insulation improvement to be eligible for these portion of the rebates

use an approved program contractor and have a testout (TO) after your work is complete
At the time of your audit (or earlier by request), we will provide you with your own copy of program terms and conditions and explain these in more detail.
Do you handle the utility rebate paperwork?
Yes.  We take care of all of the utility rebate paperwork and reporting requirements so you don't have to.  In addition, and unlike many other contractors, we offer the option of discounting the utility rebate directly from your final project cost so that you don't have to wait 12 weeks or even longer for the utility rebate to arrive.
More questions?
 Please contact us today with questions specific to your home and situation!
Are there any federal rebates available for home energy upgrades?
Yes. In late 2015, Congress extended a tax bill for certain residential energy efficiency improvements, equivalent to 10% of the material cost of insulation, efficient windows and doors, and certain roofs. (Use IRS Form 5695 (2015), see Part II – Nonbusiness Energy Property Credit, line 19a) The tax credit excludes the cost of labor, and the total credit is capped at $500 (only $200 of which may be used for windows). This credit is currently only guaranteed through the end of 2016. If you so choose, we are happy to supply you with product specification sheets and an estimate as to the material cost of qualifying products used on your job.
For more information, please visit the IRS page here: www.irs.gov/Credits-&-Deductions/Individuals/Nonbusiness-Energy-Property-Credit and consult your accountant / tax advisor for more specific tax advice.
Are there any additional state and county rebates available for home energy upgrades?
Maybe. Most state rebate programs have now been supplanted by the generous utility rebates, but there are some additional incentives for residential renewable energy run through the Maryland Energy Administration (MEA), a full list of which is available at www.energy.maryland.gov/Residential. Depending on your area, there may be some additional local or county rebates available.
Can I finance the remaining cost of my upgrades?
Yes. If you're interested in financing your home energy improvements, the Maryland Clean Energy Center has teamed up with First Mariner Finance to offer an energy-improvement loan (9.99%) to homeowners who have completed an energy audit. For more information, please visit: www.mcecloans.com.
     Are You Ready for a     Higher-Performing Home?